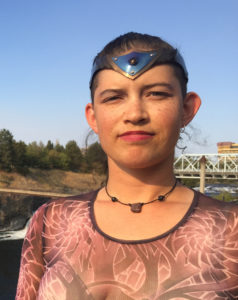 Goldeen Ogawa is a writer of fantasy and science fiction, an illustrator, painter, and cartoonist. Born Grace Goldeen Ogawa in 1987 to a Japanese-American father and a Jewish-Catholic mother, she spent the first few years of her life in the San Francisco Bay Area before her family relocated to a small town in the Sierra Nevada foothills of California in 1993. Though she had always been fascinated by stories, much of her childhood was taken up with outdoor activities such as horseback riding, mountain biking, and whitewater rafting.
Goldeen was un-schooled and didn't go to college, so she acquired many skills without any papers to prove it. This still surprises people.
A precocious artist from an early age, Goldeen taught herself first to draw, then to write, and finally to read. She completed her first novel at the age of 13, which she promptly threw away and began writing her second. Upon completion she threw it away and started her third. This cycle continued until her mother told her to start sending her stories to editors instead. During the flood of rejections that followed Goldeen entertained herself by creating comics featuring many of the same characters she wrote about in her stories. These included the webcomics The Iron Wizard (2005-2010, produced with her brother, Evan Ogawa), and Angeldevil (2004-2012). She also wrote and illustrated the Tobius comic books for children, published by Rabbit Valley Comics. Her most recent graphic novel project is Year of the God-Fox (2013-2014).
Goldeen currently divides her time between writing stories and running her indie publishing company, Heliopause Productions, creating artwork, and taking care of various animals. She is active in the furry fandom, where she goes by the nick-name Rhondi and masquerades as Tachyon the Elk Angel-Dragon or Prax the Strange Owl. She lives in Bend, Oregon, but regularly attends conventions all over the States… and sometimes beyond! If you would like to see her exhibit/read/ appear at a particular con or even, drop her a line and let her know!
Convention Schedule
2018
Further Confusion
January 11-15 • San Jose, CA
(Dealer/Art Show)
Emerald City ComicCon
March 1-4 • Seattle, WA
(Attending)
Biggest Little FurCon
May 10-13 • Reno, NV
(Dealer/Art Show ?/Reading ?)
AnthroCon
July 5-8 • Pittsburgh, PA
(Dealer/Art Show/Reading)
WorldCon 76
August 16-20 • San Jose, CA
(Art Show/Dealer ?/Reading ?)
Rose City ComicCon
September 7-9 • Portland, OR
(Artist Alley)
IlluxCon (pending waitlist)
October 17-21 • Reading, PA
(Waitlisted for Showcase)
World Fantasy 2018 (non-attending)
November 1-4 • Baltimore, MD
(Art Show mail-in)
Anthro NorthWest
November 8-11 • Seattle, WA
(Pending Dealer table)