It's been a very busy summer and autumn. How busy? Well, I've been so busy that I haven't had time to blog here at all! But this is okay; I've been doing lots of writing instead—and I have the books to show for it!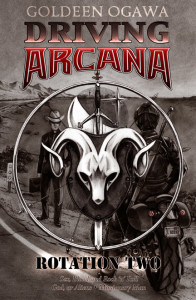 First, there's the second installment of Driving Arcana stories, Rotation Two, which is out from Heliopause and available on all channels. You can pick it up from Amazon, Barnes and Noble, Nook, Kobo, or have your local bookstore special-order it. (And yes, for Christmas shoppers, it's available on Amazon Prime!)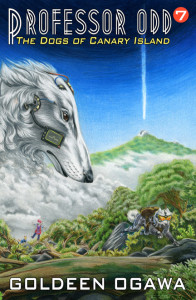 Second, "The Dogs of Canary Island" which debuted this summer in Aphelion 2015 is now available as a single! Search it on any of your preferred online book vendors, or find handy links over on it's Heliopause page.
Also worth noting: I now have a Red Bubble shop! You can find the original cover art for Odd 7 there as a print, along with many more pieces! Do take a look!
On the convention front I attended Sasquan earlier this year, which was a blast. The WM and I took a road trip up through Oregon to get to it (we're in California) and I got to visit some old friends on the way up and down. The greatest highlight of that con was probably Helsinki's win for WorldCon in 2017, though the whole weekend was delightful—Mordor-like weather notwithstanding.
All that seems a long way away now, and never more so than last weekend when I was in Chicago for Midwest FurFest. This was a mind-boggling experience as I got to meet several artists whom I've long admired, as well as reconnecting with old friends. I took a short holiday in the city itself to visit the Shedd Aquarium, the results of which can be found on my tumblr, here, here, and here. Chicago is a wonderful city and I cannot recommend the Shedd enough. Also, Chicago Pizza and Oven Grinder Co. and Smoque are two excellent choices for food.
Looking forward I have the usual Holiday tasks still in front of me, as well as the impending release of Perihelion 2016 next month. Also next month I'll be traveling to Boston for Anthro New England, where I'll have a table and will be dealing next to my partner-in-crime art, Mary Capaldi. I'll also be doing a reading, and probably running around as Tachyon a lot.
So many things! Oh, and I've got the second Sir Camilla novel to finish in the mean time. Better get crackin'. I'll leave you with the newly-unveiled Perihelion 2016 cover, and the usual reminder that twitter is the best place to follow me these days, and I post WIPs and other pictures to my tumblr.