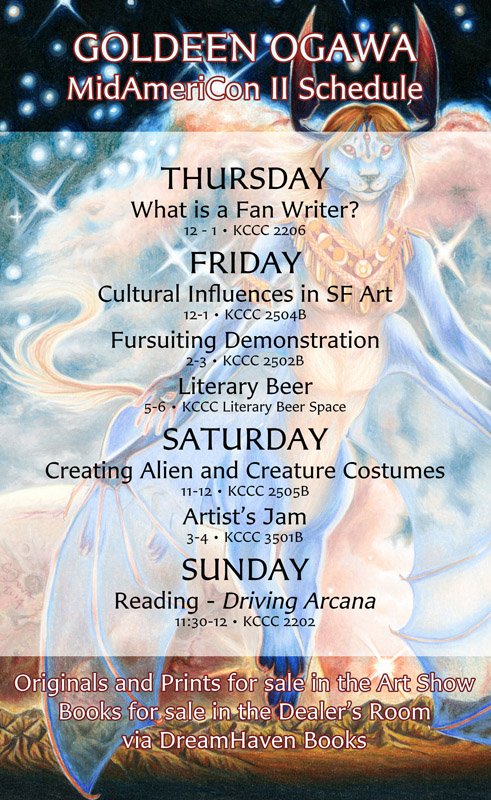 For more information, or to add events to your schedule, go here! Very excited that they gave me so much stuff to do!
Some notes:
Cultural Influences in SF Art will be helmed by my man John Picacio co-starring GoH Kinuko Craft along with myself and Kurt Busiek. Should be a good show.
Fursuiting Demo will feature a behind-the-scenes look at the work that goes into bringing Tachyon to life, a brief overview of the different aspects of fursuiting, and a special guest appearance by a brand new character I'm developing!
If this Literary Beer is anything like the Kaffeeklatches I've attended in the past, it will probably be BYOD (alcohol is not required) and there will be more relaxed conversation than High Literary Discussion. Kids (in body or spirit) welcome.
I'll have extra brush pens and bristol board on hand if anyone wants to have a go! No previous experience necessary!
Come promptly for my Reading on Sunday to catch the pre-show! I aim to have time for questions afterwards but if we run out of time I plan to go camp at Greg Ketter's table afterwards, where there will be copies of my books for sale!
In the Art Show you'll be able to bid on the originals of the Burrowing, Tawny, Whitefaced and Barred Strange Owls, as well as some never-before-seen works involving owls and metallic paints! Should be good fun! I'll also have a giant print of Nebula on display in the ASFA Lounge.
Hope to see you there! If you're on twitter and want to track my movements, following @GrimbyTweets would be a very good idea.
Cheers!
P.S. Happy Birthday to me!
Tags: conventions, MAC2, midamericon II