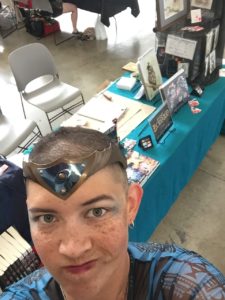 It's been a whirlwind… life, really. AnthroCon was there at the turn of the month, and as always it was a wild, exhilarating ride. So many good feelings, so good to see old friends again and kindle new ones. I missed Susan, who wisely stayed in the Netherlands this year and thus avoided the harrowing trip through US customs, but my partner in fundraising, Shujin, dropped in and was an immense help on Saturday and Sunday. Shujin and I debuted a quirky live-sketch show part iron artist, part charity auction. Shujin is a DJ and we took prompts from the audience, combined with his choice of song, and I drew them. The results were… as irreverent as one might expect.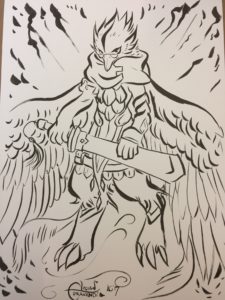 Yet through the generosity of our audience we raised ~$375 for AnthroCon's flagship charity, Hope Haven Farm Sanctuary. I managed to scrape together another $75 from charity brush pen commissions I took, so that's pretty neat.
Commissions were somewhat lighter than in past years, but those I got were lovely, and sales were good. I under-ordered Professor Odd Season 2 singles, and sold out of Driving Arcana Rotation 1, but I had enough of Season One—though all but one copy has been spoken for now. Anyone want a signed copy of Professor Odd: The Complete Season One? Hit me up!
Oh yes, the Complete Season One is finally out! Here is the cover (I am so proud of it):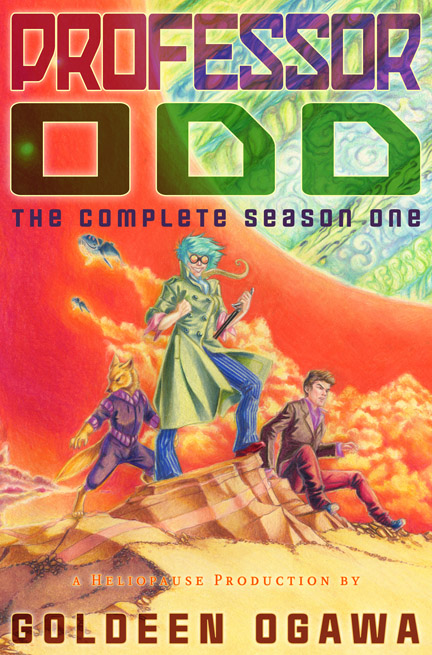 I will make a proper art post later with the whole thing. It's a wrap-around illustration that took me months. Whew!
I missed my partners, who were unable to make it this year due to Boyfriend moving from TX to CA to live with Girlfriend, which necessitated a quick trip down to visit them on my behalf directly after the con. This, combined with the mountain biking camp for girls which I volunteered at last week (put on by Soul Sister Cycling) and I am now woefully behind on summer business. Which business has been compacted by our upcoming trip to Helsinki for WorldCon next month. What ho! Time to get off the blog and back to work! I'm on several panels at World Con this year, not least the Diana Wynne Jones panel and a storytelling/illustration panel with (heavy breathing) Rob Carlos and (heavy breathing intensifies) Claire Wendling. Wish me luck.
Also I have several new pieces of art to share. Expect a bunch of art posts in the coming week. And by expect I mean nag me about it on Twitter so I actually do it.
Thanks.
-G