After a good deal of mental blundering and some keen encouragement from close family and friends, I've undertaken to build a Patreon—one which will hopefully launch within the next month. I have an assortment of tiers and respective rewards, many of which are not available for conventional purchase. As I will say again: my Patreon is not the place to buy my art or stories. If you're backing my Patreon, it's because you want me to do more of what I already do. That being said, here's a rundown of the various tiers and what they get you.
Tier $1/month: Fellow Traveler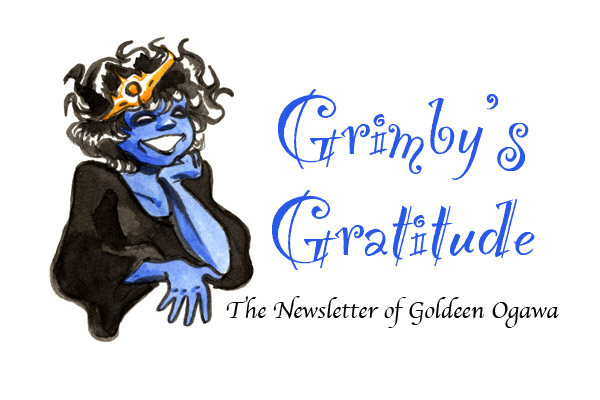 Starting at $1 a month you get access to the Grimby's Gratitude e-newsletter, which will be delivered electronically in the first week of every month via Patreon message and later posted to my page. Print copies will be sent out at the same time to Star Walker and Mother Chaos patrons along with their relevant gifts.
The contents of each issue will vary! There could be recaps of any interesting events from the previous months, essays or cleaned-up twitterstorms, accounts of my around-town adventures—maybe recipes, poems, even pieces of flash fiction. And you might be the first to know about exciting new projects I'm tackling and insights into my writing and drawing process.
Tier $5/month: Supporting Magician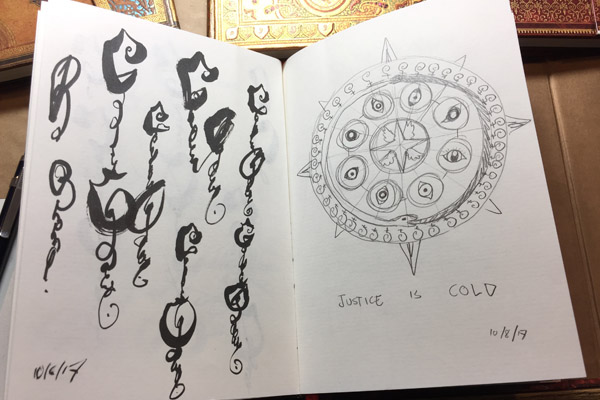 At $5 a month you gain access to the Sparks Gallery and the Short Spells Library. The Gallery will consist of rare glimpses into my personal sketch journal, which is filled with concept designs, notes, character sketches, brush pen practice, and more! Though I've tweeted some of its content before, the majority of it has never been posted online—or even properly scanned!
The Short Spells Library consists of similarly rare short stories that are otherwise difficult to find in the wider world—and perhaps some that have never before been published!
Both the Sparks Gallery and the Short Spells Library will be a series of tagged posts available for patrons at the Supporting Magician tier or higher. Patrons will also be notified via email when either is updated.
Tier $10/month: Valdellunian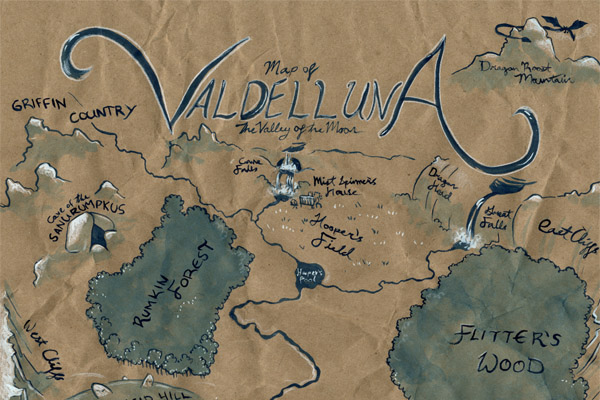 For $10 a month you gain access to the Valdelluna Archive. Valdelluna is a narrative illustration project that I stumbled into at the end of 2009, and formally began in 2014 when I acquired a Magical Book from a dear friend. The Archive aims to preserve these drawings, many of which have never been posted online before, and offer a comprehensive guide to the fascinating, magical place of Valedelluna. And, in an effort to actually finish the book, I'm going to add a new drawing for every patron who backs at this level—up to one new drawing per week.
The Valdelluna Archive will be available as a series of tagged posts for anyone who backs at the Valdellunian tier or higher. As always, notifications of updates will be sent to qualifying parties out as they occur.
Also at the Valdellunian level you'll get a copy of every eBook I publish during the month your pledge is current. Now, most months this will be zero books, but some months there might be as many as three, or four! Additionally, new Valdellunians will receive a thank-you eBook after their first pledge goes through. Otherwise eBooks will be delivered as attachments via email as they become available and will not be posted to the Patreon blog.
Tier $100/month: Star Walker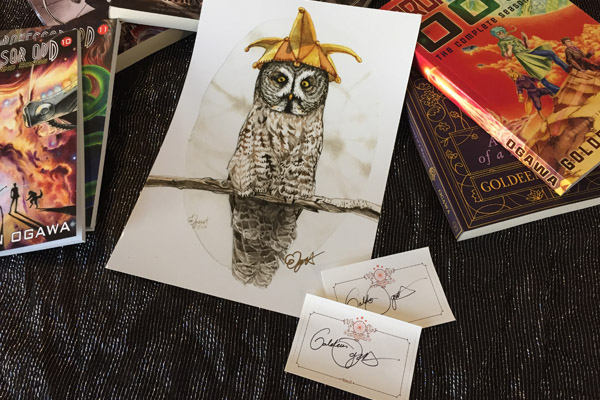 Now, a slight (haha) jump. If you pledge $100 a month not only do you get everything in the first three tiers, but also: a print copy of Grimby's Gratitude, snail-mailed to you along with two signed bookplates and a signed print.
You also get one print copy of every new book I publish during the month your pledge is current. Again, most months the number of books I publish is zero, but some months there's as many as three! And new Star Walker patrons will receive one print book of novel-length when their first pledge goes through.
In all cases, books are shipped direct from the printer so they will arrive unsigned, but you will receive extra signed bookplates with your newsletter equal to the number of books you are getting. Print books will be shipped out in the first week of every month.
Tier $500/month: Mother Chaos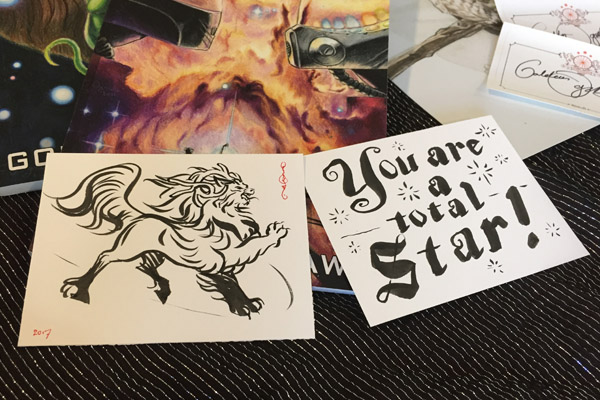 At $500 a month, in addition to all other previous rewards, I will also send you an original piece of art. Artwork will be entirely up to me, and will probably be quite small, so you don't have to worry about running out of space.
Mothers Chaos will also receive a hand-lettered Encouragement Card. These will be 3″x4″ pieces of cardstock with some encouraging words prettily inscribed upon them, handy for sticking in places where you need some cheer. You'll get a new one each month when your pledge renews.
Originals and Cards will be shipped out with the print newsletter, bookplates and prints at the top of every month, and yes, they will be signed.
Tier $1,000/month: Albatross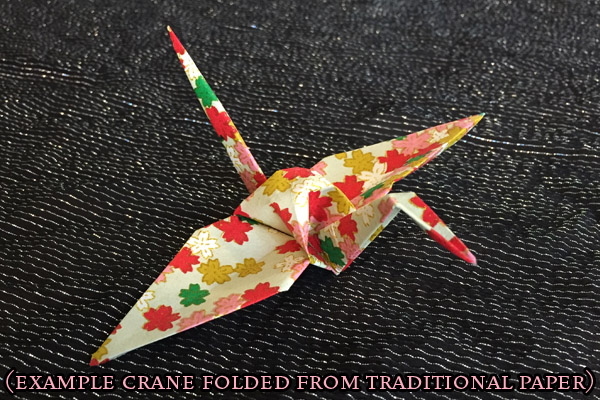 Albatrosses, oh boy. So, yes, I have a $1,000 a month tier. I do not expect anyone to back at this level for the material rewards. You just want me to focus on creating more books and art. You also probably have more money than time and/or wall space, so in the interest of not wasting anything, Albatrosses will not receive any of the previously mentioned physical rewards. They'll still get the eBook emails, the Gallery, the Library, and the Valdelluna Archive, and the e-Newsletter, but that's it.
What one gets for backing at the Albatross level is this: a single origami classic crane, folded from a page of a proof book. These are the copies I order for myself and which usually contain errors to a greater or lesser extent. They might as well be recycled for all they're worth once the final is approved, but in their moment they are as valuable as… well, as a thousand bucks a month.
If you've met me you know I like folding origami and will literally do it at the drop of a hat. But these particular cranes will only be folded for Albatross-level patrons, and each one will be personalized, signed, and dated.
Cranes will be mailed out to Albatross patrons each month when their pledges go through.
And even if you decide you're not in a position to safely render support at this time, thank you for reading, and I hope your future journey is pleasantly exciting.