San Antonio feels in November like Pittsburgh does in July: humid, warm, full of the sound of Diesel engines—thought the grackles are absent from Pgh—and the smell of green water and grease. It is a city full of stairs and hidden passages and the kind of heartfelt southwest aesthetic that Los Angeles tries to imitate, often unsuccessfully.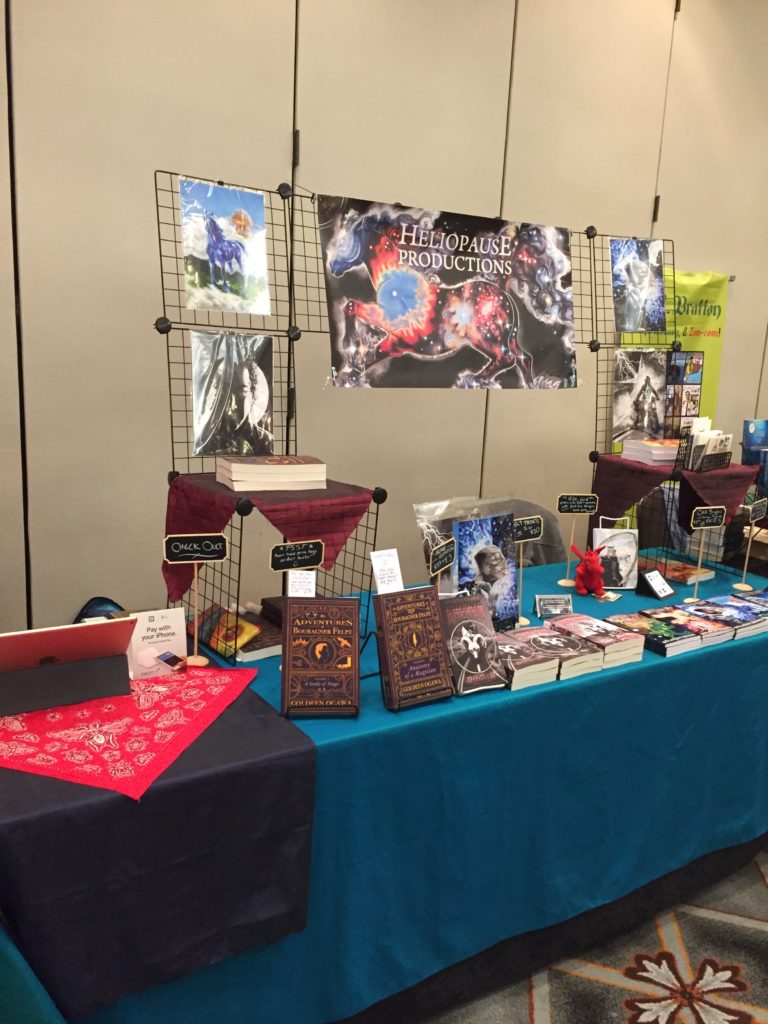 It's been a long weekend, literally. It started on Thursday with a cascade of set-up in the art show and the dealer's room, which was accomplished largely due to the helpfulness of the staff and my Wonderful Mother. By Saturday, Friday morning was a distant memory, and new acquaintances from Thursday night felt like old friends. Though there were those, too. (You know who you are.) It was so very good to see all of you.
World Fantasy continues to be a puzzlingly wonderful convention. Though not as lucrative (for me) as AnthroCon, and not as exhuberant as WorldCon, I found it as full of interesting, intelligent, brave, creative people as ever. Also, the hospitality suite was excellent.
Also excellent was the art show, which was not only well-stocked by top-notch artists, but the hard working staff kept the bidding open through the (wet) art show reception, thus enabling a few crucial last-minute bids which absolutely made the weekend (for this artist at least). My heartfelt thanks to Scott Zubrek and his team, especially Jimmy, Ruth, Gretchen, and Rhonda—the best enabler. Thanks too to Greg and Lisa for steering the dealer's room one last time.
The greatest difference from my perspective between this and my last World Fantasy (D.C. in 2014) was that this time I was not left floundering when trying to describe what I do, but merely had to gesture at the contents of my table. Which were, admittedly, varied enough that some people were still confused as to whether I was the author or the artist. Which is understandable, since there are few creaturs who are so involved in the process (shall we say) as I am—but I think there are more of us than we think. I have personally met enough writers who draw (and vice versa) that I think I could fill a panel with them. Which John Picacio actually did, to great effect, with Kathleen Jennings, Jeffrey Alan Love and Greg Manchess—none of whom had been on my own personal list. So, that is also a change.
Another change was the prominence of indie and self-published authors, one which I'm happy to be a part of. It was great to meet and talk with Brian Hades and David Stokes, two champions of alternate stories. The importance of diverse and marginalized voices being given amplification ranks very high with me, and it was good to others in the same boat.
Besides being able to sell my work to people I've long admired, I'd have to rank the readings of Davids D. Levine and Mitchell as the highlights of the con. Levine read excerpts of Battle of Venus (Arabella 2) and Arabella 3 to great effect, while Mitchell read three shorts which shook me like words hadn't done since I read The 13 Clocks.
But nothing compared to getting handed a fresh-off-the-table Jeffrey Alan Love original at the mass signing on Friday night. Jeffrey is a stunning artist and I can't wait to read his writing.
We will be boarding soon, and I doubt I'll have time to finish this up afterwards (I plan to spend the flight writing micro-stories… or sleeping. Or both.) Quickly, then, a shout out to Adrian, another author I hope to read one day, with whom we discovered we shared a very dear friend. Also, some exciting news for the future: Heliopause Productions will be opening a web store for signed books, prints, and whatever other merch I have in stock. If you missed filling out your Professor Odd collection or missed WFC entirely, watch this space!
Now to trot off to the bathroom before they bundle us onto a metal tube to Phoenix.