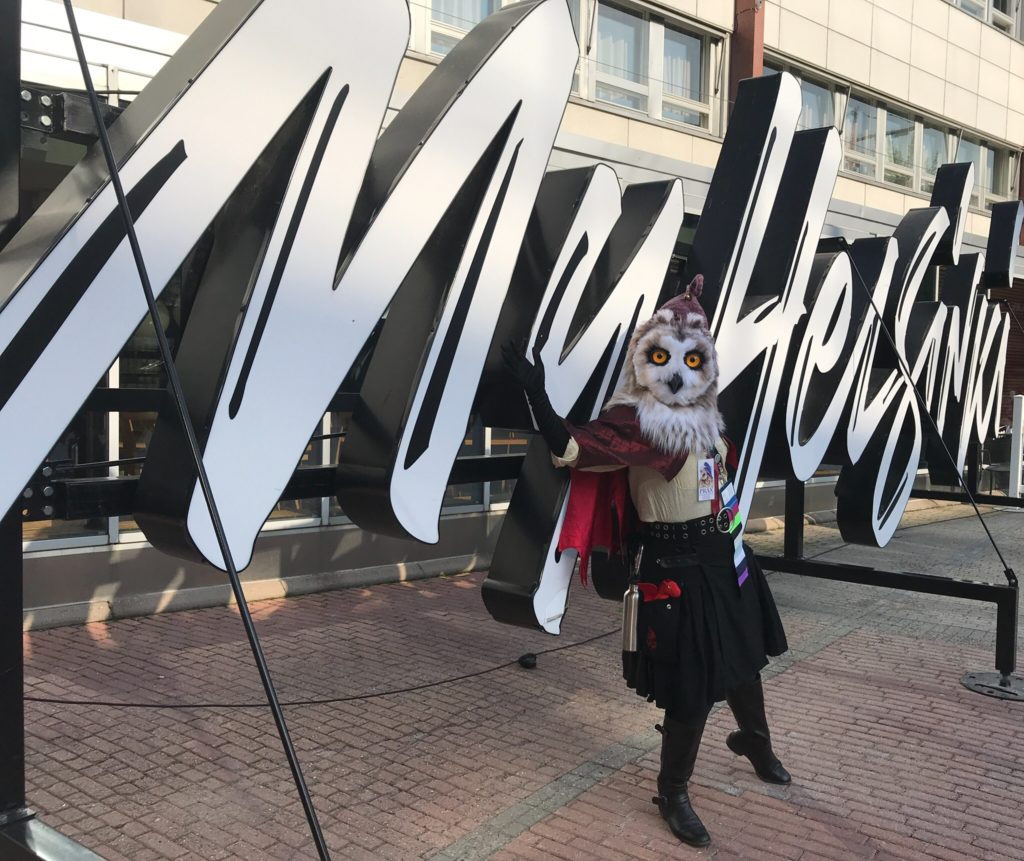 I'm writing this in the little dining area across from Upper Crust in Helsinki-Vantaa Int. Airport, with about 30 minutes to boarding, since I just know once we get done with Iceland this incredible weekend will be blown from my mind.
With that in mind: WorldCon75 was absolutely magical, fun, exciting, and overwhelming in the best possible way. The rapid-fire highlight reel:
Getting to take City Bikes to and from the Messukeskus. Our hotel was about 2.5 miles away, but that made for a lovely bicycle ride along Helsinki's marvelous protected bike lines and numerous cycle pathes. In fact, these pathes were so numerous that the WM and I took a slightly different route each of the four days we did it!
I had forgotten the expansive breakfast buffets of European hotels. That was a nice thing. So many soft boiled eggs!
The con itself was very well attended. So well, in fact, that they ran out of program space on the first day, and had to limit day-pass sales the rest of the weekend. What this translated into for me, however, were some of the best-attended panels I've had the pleasure to serve on. I walked into the Diana Wynne Jones panel at noon on Wednesday to find it packed wall to wall. It was a job to keep from blubbering in joy.
The Nordic Steampunk Blacksmiths set up in front of the South Entrance added a special ambiance to the whole venue. It was especially charming catching them putting on their (quite necessary) sun screen on Wednesday morning.
While line-wrangling for George R R Martin's Thursday signing I fell into a conversation about single malt with a large Finnish man who declared he would "get me drunk" on scotch at some point. I later learned he was the head of security. I feel this more or less typifies my relationship with that department. (Glances sideways at her DI friends.)
It was lovely to connect and re-connect with so many kindred spirits. I know I shall forget some but here are the ones I've remembered: Eleanor Joslin, Gili Bar-Hillel and her family (hi, Tali!), Rob Carlos and Lee Moyer and Venetia Charles, thank you for saving the Illustrated Stories panel in the absence of Claire Wendling. It was wonderful to see Mari Ness and to watch the Hugos on twitter in the bar with Scotch and David D Levine, who was so kind as to invite me to the Hugo Loser's Party, held this year at a bar called Steam Helsinki which felt a bit like the game Eye Spy come to life. There were motorcycles on the ceiling and dozens of hidden crannies. Ironically, I think I saw more of my friends compacted into one place on that night than anywhere else at the con! Not leastly Ursula and Kevin, even if I had to lean over the back of a seat to reach them (as you do).
Thanks, GRRM, for using your powers for good.
I would like to thank Gillian for being the best Gopher Mom I've ever had, and every single person who came to the Diana Wynne Jones fan meet. I had fellow fans coming up to me for the rest of the con, and it was marvelous.
Shout out to Ellen (from Germany) and Daniela and everyone who came to the Origami Jam. Also thanks again to Ursula for shouting "I'm your biggest fan!" at my signing. I'm planting that moment in my memory like a landmine for the next time depression invades.
Thanks, Nalo Hopkinson. I will forever be proud and grateful for my freckles.
Kind regards to Tim and Malcom and everyone who skipped the masquerade to come to the Furries panel.
Congratulations to the Dublin Team, good luck to New Zealand (2020) and DC (2021), and very best wishes to San Jose, where you will, barring disaster, find me next year.
To cap off the con the Wonderful Mother and I took a cycling tour of Helsinki's Solar System Model. I do not have time to recap it here, but you can find the live and after-life twitter string, with pictures, over here.