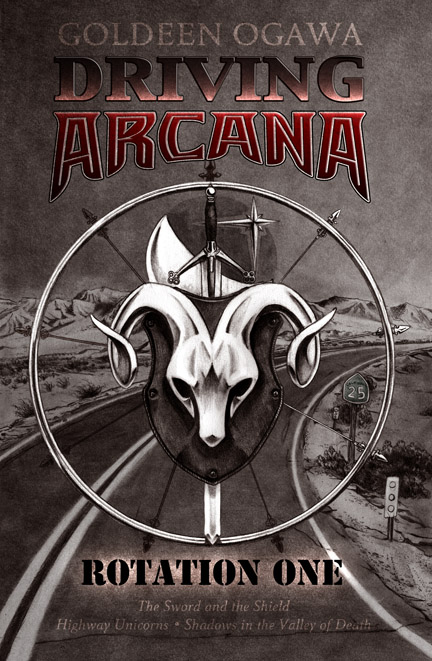 Above is the cover for the first collection of Driving Arcana stories, fittingly titled Rotation One. It is available as an eBook from Amazon, iTunes, Barnes and Noble and Kobo, and you can also get the paperback edition via Amazon or order it through your local bookstore. The relevant links can be found over at Heliopause.
About the Story
If you follow my twitter, you've probably heard me mention the name Driving Arcana in relation to my word count tweets. I've been writing a lot of it lately, and Rotation One is only the first three of nine stories which make up Wheel 1 (Arcana is the name of a truck, so the volumes are called Wheels, and a small collection is a Rotation. I had considered calling the individual stories Spokes but thought better of it). There will be five Wheels all told, each consisting of nine novella-length stories. So it's early days yet as far as this series is concerned.
Yes, what about the series, then? Well, Driving Arcana was born out of my frustration with a certain television show that, while it had many good qualities, utterly failed in the representation of women, people of color, skeptical thinking, women, realistic U.S. landscapes, women, and…
You get the idea.
Also drawing inspiration from Neil Gaiman's American Gods (in the road trip sense, not the dude-gets-eaten-by-a-vagina sense) (sorry was that a spoiler? sorry, sorry), originally I had imagined Driving Arcana to be another serial webcomic, like I had already done with Angeldevil and Year of the God-Fox. What the latter of the two taught me, however, was that if I wanted to actually make a story as epic and far-reaching as Driving Arcana into a reality, it would have to be through pure letters.
So it was, in the fall of 2012, that I began writing the first episode (I think of the stories as being like hour-long TV episodes) as a distraction from my other two major series (Professor Odd and Bouragner Felpz). I had intended them to be short, fun things that wouldn't require a lot of energy or research.
Ha ha ha.
Driving Arcana shares some similarities with Professor Odd in the style and construction of the episodes in that there is a small main cast who travel around and have adventures, with a different set of guest stars in each story. There is more of an over-arching tale to Driving Arcana, however, though it is revealed slowly, and I have so far refrained from writing "cliff-hanger episodes."
Another feature of Driving Arcana are the songs. At the end of each story there is an original poem, a bit like an end-credits song, that is evocative of the preceding story. The trick to know is that they are not really poems: they are songs and they can be sung to the tunes of real songs that I listened to while brainstorming the series.
I had constructed for myself a lengthy playlist of songs which I felt were in the spirit of Driving Arcana. This list was originally a mix of Eurythmics and Lady GaGa, but has since been fine-tuned as I figured out more and more about the story, and it now contains songs from everyone from Jefferson Airplane to David Bowie to Katy Perry.
It must be said I picked these songs for their feel, not their lyrics, and I was a little dismayed to find that, when examined, the existing lyrics did not match the world I had created at all. Besides, since I didn't wish to get sued six ways from Sunday, I couldn't actually include them in the books. So I wrote my own songs, though I carefully made them scan to real tunes. I also made up fake bands and artists, who are referred to in the stories themselves, to help flesh out the world. Two of these later made in-person appearances, and have become characters in their own right.
Driving Arcana can best be described as dark, contemporary fantasy, with a light dusting of horror. There is some blood and gore and themes such as racism, sexism are tackled head-on rather than danced around, but I have endeavored to keep the language PG-13. I'd like these books to be easily accessible to older kids and teenagers as well as adults because they address issues (like racism, sexism and homophobia and transphobia and a whole lot of other bad stuff) that are usually relegated to adult-targeted books, because these issues are relevant and worth thinking about no matter what your age.
About the Characters
The main cast of Driving Arcana consists of three women, a truck and a motorcycle. The women are (in no particular order; they are all equally important) Jill Hamilton, Clara Nordstern and Selene Shields. The truck is a bright red 2010 Heavy Duty 3500 Ram Laramie—which for those of you who don't know trucks, is this hulk of a vehicle—named Arcana. He (yes, he) was based on a real truck belonging to a friend of mine. I wanted a truck that was really huge. A beast. And one that had an animal emblem (the Ram part of him becomes very important). Having become intimately acquainted with my friend's truck, I knew a Ram 3500 "duallie" was exactly the vehicle I wanted for Jill and co., even if it wasn't the most practical car for a road trip across the continental United States (which is what happens in the series). And the motorcycle is a heavily modified prototype Yamaha VMAX named Unicorn. Unicorn gets her name from the spike of anodized aluminum welded to her headlamp, and is Clara's preferred mode of transportation. I chose the Yamaha VMAX because I wanted something as big and powerful as a Harley, but not a Harley, and not something as famous as the Hyabusa or Ninja. The VMAX also nicely straddles the line between cruiser and racer, which again is not the ideal thing to ride across the country on, but it fits Clara's character.
Clara is really Claymore Nordstern. She is the youngest of the three, well over six feet tall, wears all black biking leathers (even in Death Valley), is bald, pale-skinned and blue-eyed, and fights monsters using her namesake sword. She's taciturn by nature, socially awkward, and there is a lot about her past we don't know at the beginning—the long, slow reveal of her character is a major part of the main arch of Driving Arcana.
Selene Shields is named after a moon goddess and the first U.S. woman to win an Olympic gold medal in boxing. I imagined her to be a friendly and talkative counterpoint to the Giant Mountain of Ice that was Clara, but the more I wrote, the more I realized Selene plays a lot close to her chest, in her own way. It is through Selene, who is both black and gay, that a lot of the major social issues are explored. She being a triple threat of marginalized people was partly accidental, but once I realized it, it informed a lot about her character and how she reacts to the things the group encounters. Selene is neither exceptionally strong, big, or fast, but she's an expert shot and an excellent tactician. Her favorite weapon is a vintage 1963 Winchester Model 12 trench gun (an homage to the Winchester brothers from Supernatural), named Elvis.
Finally, there is Jill Hamilton, whose full name of Gillian Sarah Hamilton is an amalgam tribute to three legendary genre actresses: Gillian Anderson (of the X-Files), Sarah Michelle Gellar (Buffy) and Linda Hamilton (Terminator 1 and 2). If any of them could be said to be the "main" character, it would probably be Jill, but only because she serves as the audience's entry point to the story. Jill, unlike Clara and Selene, is not a fighter, but a scientist, and it is through her that the repeating theme of science vs. magic is explored. One of the big motivations for me to write Driving Arcana (aside from frustration) was that I wanted to see what would happen if a proper, skeptical, rational atheist encountered a unicorn. The result spawned a series that I don't see myself finishing for several years.
Jill is also unique in that her physical appearance remains largely up to the reader. There are a few features (the presence of hair, glasses, and her being the smallest) that are mentioned, but for the most part I wanted the reader to be able to put whatever face or color on her that they wanted. I also wrote her this way so that, in the unlikely event of Driving Arcana being adapted into a live-action production, the role of Jill could be cast without any regards as to the prospective actress's race.
More to explore…
The world of Driving Arcana, though it is ostensibly not that different from our own, has already caused me to doodle a lot of sketches and concepts, most of which I haven't shared. In the coming days, however, in honor of the release of Rotation One, I'll be doing a series of Driving Arcana "bonus feature" post over on my tumblr in which I'll share some of these drawings, and also the songs for Rotation One and my notes on writing them. When complete, I'll post the links below, but for now, you can go see what's been posted under the "driving arcana bonus" tag.
In addition to the three stories found in Rotation One, the fourth, "Sex, Blood and Rock 'n' Roll" can be found in the latest Apsis Fiction, while the fifth will appear in the upcoming Perihelion issue.
As of this writing all the stories for Wheel 1 are completed—in the form of first drafts or better—and will appear first in future Apsis Fiction issues.
Links to available titles and a nifty episode guide can all be found on the Driving Arcana page over at Heliopause Productions.
*
Goldeen Ogawa is a writer, illustrator and cartoonist. To keep tabs on what she is doing you can follow her on twitter @GrimbyTweets, and on Tumblr. You can also contact her directly.