Here it is, March, and so far 2014 has been distinctly lacking on the blogging front. This is because, in the hierarchy of Things I Need to Do, blogging comes somewhere below "Watching silly television shows about robots in order to relax" and a good ways below "Writing new stories" "Editing stories" "making pictures" and "Taking care of animals." In short, I promised myself blogging would not impede upon my livelihood as a Creative Person and as such the blogging has not been happening.
I'm breaking this drought, however, because I want to tell you that Kristen over at We Be Reading is holding her annual Diana Wynne Jones blog fest for the month of March, and today she was kind enough to feature some of my DWJ fanart. I am utterly charmed and delighted, and only blushing a little at seeing some of my older pieces again. However, it is worth noting that the the pieces she chose are all special, in that they were all done while Jones was alive, and that the author got to see them herself.
How do I know this? Because I sent them to her.
And she wrote back.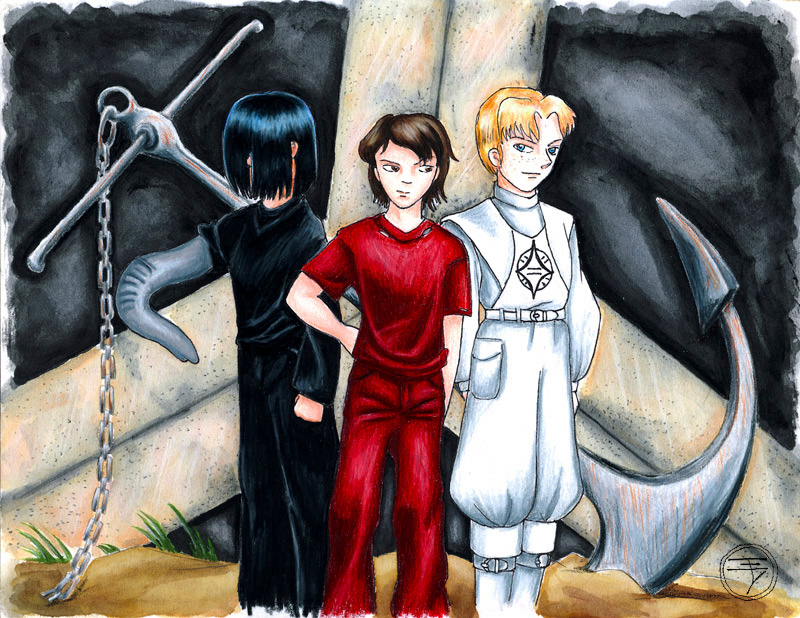 This piece, titled The Homeward Bounders after Jones's 1981 novel of the same name, features the three principal characters of the story: the narrator, Jamie, his problematic friend Helen (the one with the hair down the front of her face and the elephant trunk for an arm) and the demon hunter apprentice/slave, Joris. Jamie is in the all red clothes he got in the cannibal world, while Helen and Joris are wearing their signature black and white respectively. In the background are a couple of allusions to things from the book: the anchor and chain, and the pinkish granite forming triangles. The original, finished in 2005, is a mix of watercolor and colored pencils on mat board. I mailed it, along with a letter, to Jones via her publisher.
According to the letter Jones sent me, she managed to crowd it into her (already overcrowded) study, placing it next to another picture of Jamie, Helen and Joris that someone else had done years ago. I have no idea where the two pictures could be now, but the thought that mine sat in her study still deeply moves me.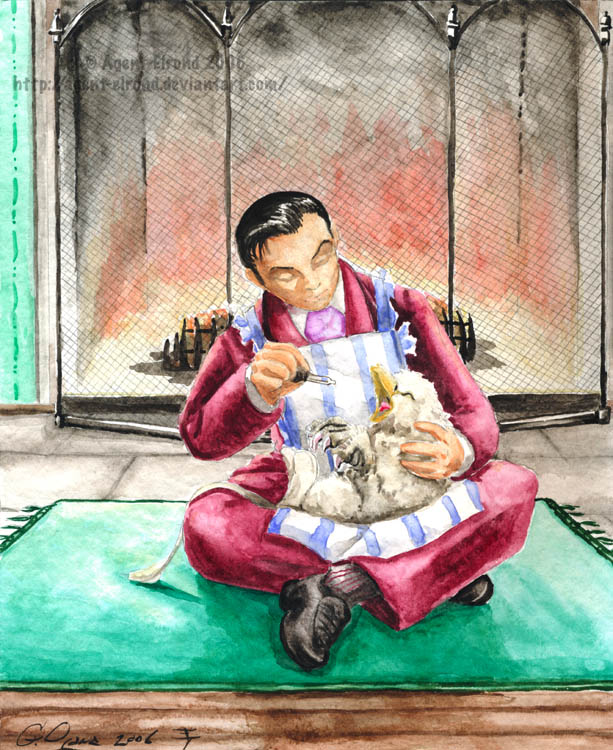 This watercolor of Chrestomanci bottle-feeding the baby griffin, Klartch, was painted in 2006, moments after I'd finished reading the book in which the scene takes place, The Pinhoe Egg. One of the things I am most thankful for in my life is that I discovered Jones's work when I was still a child, and that I was able to read a few of her later books as they came out. So this is probably one of the first pieces of Pinhoe Egg fanart in existence.
Jones's reply, when it came, is still one of my favorites. According to her, her husband took one look at it and said "That is a seriously good picture!" The letter went on to inform me that "This is something he hardly ever says. Be flattered. Feel praised."
I did, and still do.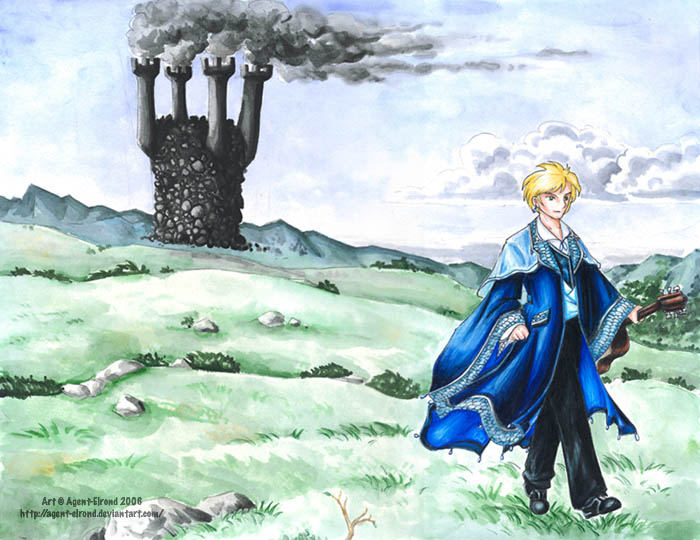 Finally, this mixed media piece of Howl and striding off with his infernal guitar was done around the time the Studio Ghibli movie was announced. I knew I had to draw Howl and the castle before I saw the movie, otherwise the image of the character in my head might get drawn over by the film. It was by far the largest picture I ever sent Jones, and I included a very apologetic note and, apparently, a doodle of Mini the elephant from The Merlin Conspiracy. I don't remember the doodle, but I must have done it because her reply mentions it specifically.
I sent Jones one more piece of art before her death, and that was a print of a painting I did illustrating the climax of The Merlin Conspiracy. It was the only time I never got a reply, but as she was well into her battle with the illness that eventually killed her by this point, I didn't begrudge her at all. From my past experiences, I am fairly confident that she liked it.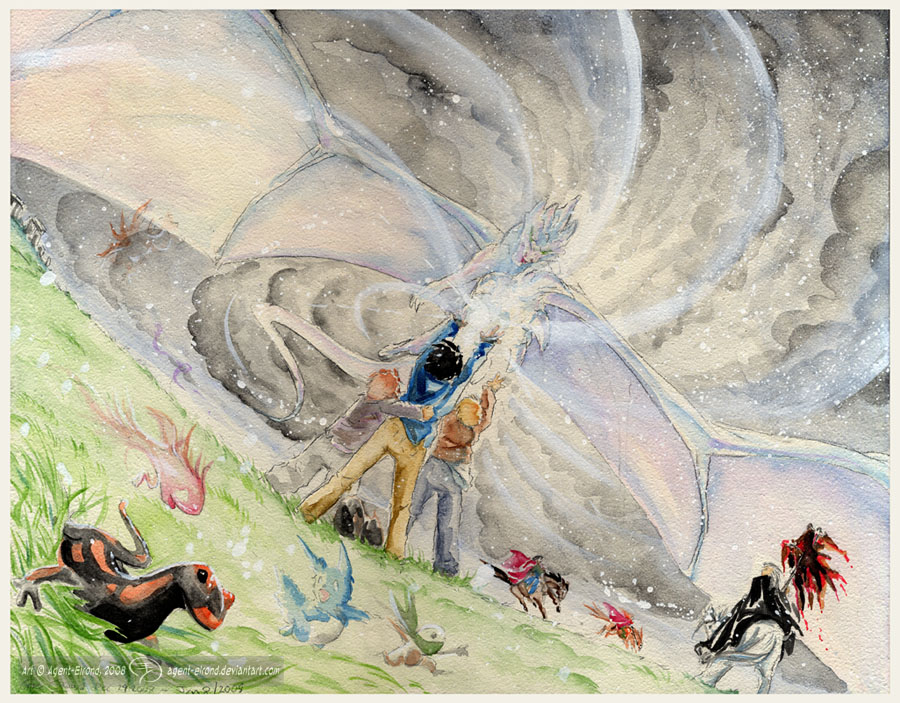 Fanart is important. Especially for writers, who usually don't get to see their stories illustrated unless they pay for it. At the time I was doing this pictures, as a teenager, I worried that they couldn't possibly compare to the professional illustrations I saw decorating the covers of her books. Now that I am older, and have received fanart of my own, I understand that the voluntary translating of characters from words to pictures is one of the greatest gifts you can give a writer. It's better than praise, in a way, because it says all the things you could hope to say in praise: that you loved the story. The characters. The world. You loved them enough to read it over carefully and take the time to pour out some of their creative energies to create something for you. It's like praise one can hold. Or crowd into one's already overcrowded study.
And so even if these pictures aren't the best representation of my current illustrative abilities, I think they are in a way some of my most powerful pieces. They certainly achieved everything they were meant to do, which was make an author happy. And if they can make my fellow fans happy too, I am sheer delight and joy.
DWJ March runs through the end of this month over at We Be Reading, and you can also follow the hashtag #dwjmarch on twitter. For more about Diana Wynne Jones, you can visit her official fan site, here.
*
Goldeen Ogawa is a writer, illustrator and cartoonist. An avid Diana Wynne Jones fan, she's always wanted to do a series of illustrations for Hexwood, but has always felt too intimidated. Perhaps by the time she's ready, we'll need a new edition of the book. An illustrated edition. Yes. You can keep tabs on what she is doing by following her on twitter @GrimbyTweets. You can also send her an email directly at goldeenogawa@gmail.com.