Last year I was commissioned to do a series of Elemental Horses based on the four classical Greek elements. Ignis (fire), Aura (air), Aqua (water), and Terra (earth). They were themselves done in the style of my Planet Horses (Jupiter, Saturn, Ouranos and Neptune) from 2013. This year, I'm revisiting both series, beginning with the addition of the two missing elements from the Wu Xing (wood and metal).
Hint: click on the images to see them at full size!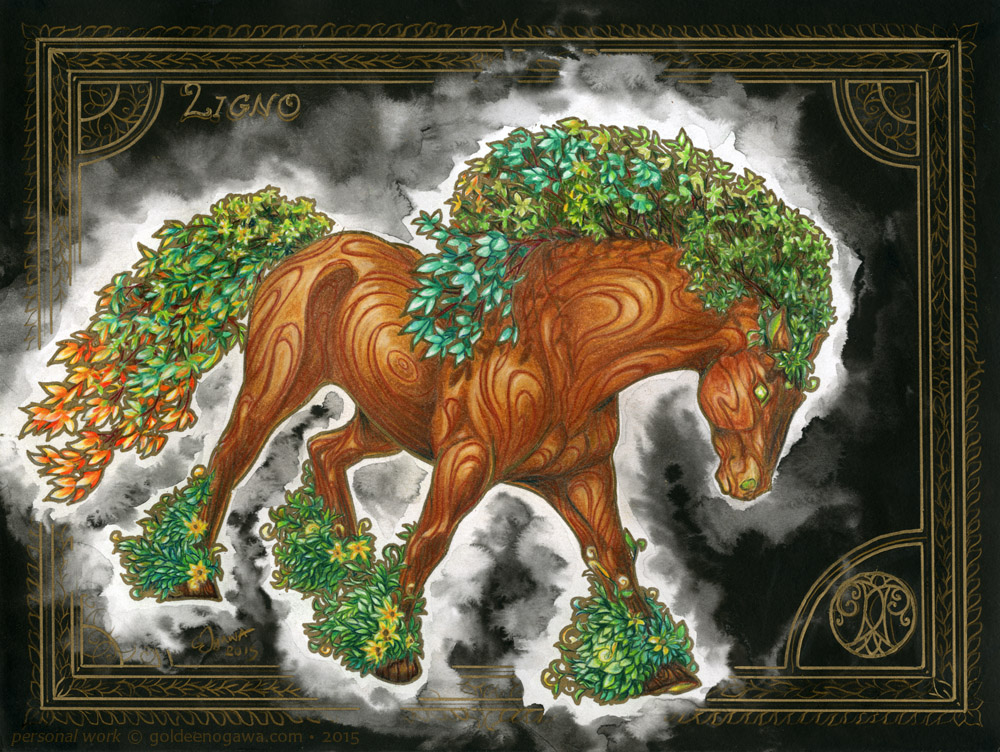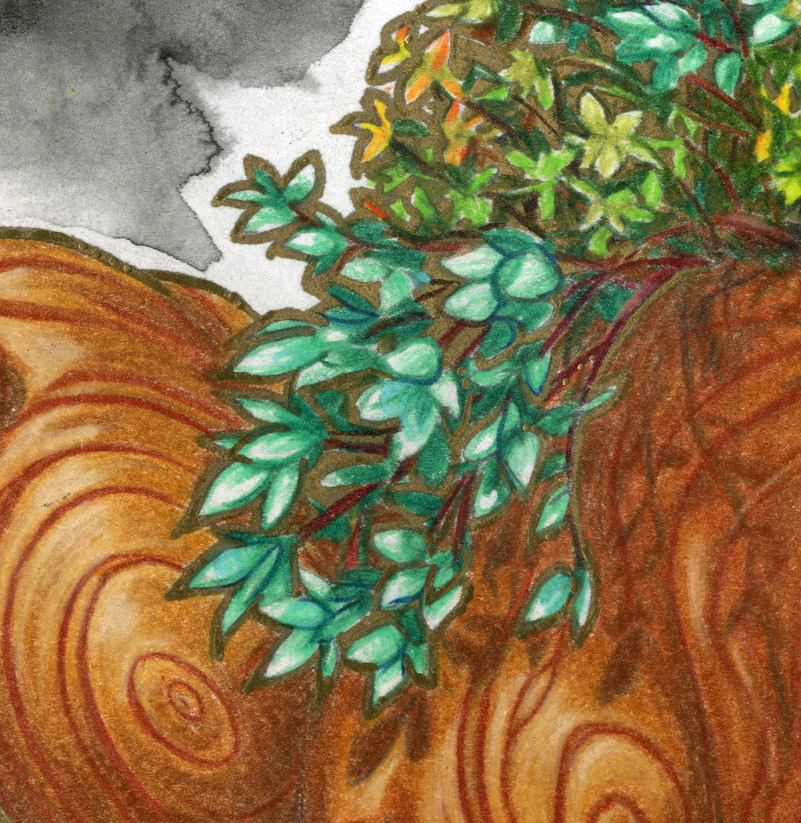 Elemental Horse: Ligno (wood) Personal Work • Print available!
Ligno (wood), draws inspiration from the Gypsy Vanner for her shape, and the Giant Sequoia, manzanita and scrub oak for her tree-based parts. Despite being tedious and time-consuming, it was a fun challenge doing all the leaves, and I've learned a lot from it.
Mixed media: black ink and watercolor, colored pencil, and gold paint pen. I created her sigil (at bottom right) to resemble a tree with roots and branches. Original sold at Further Confusion.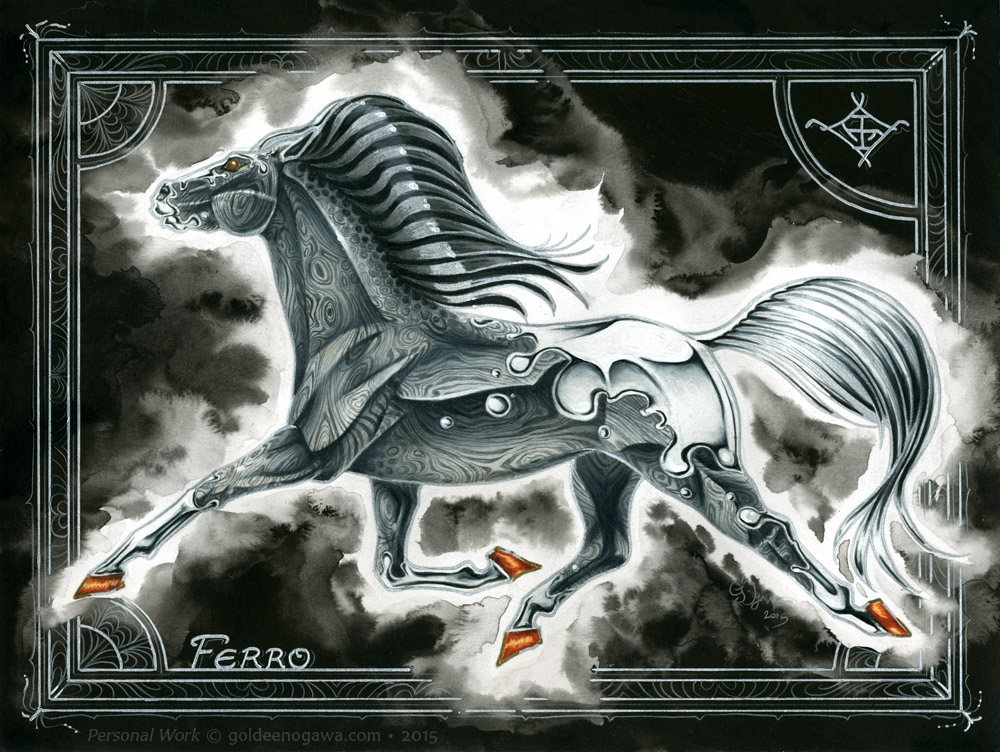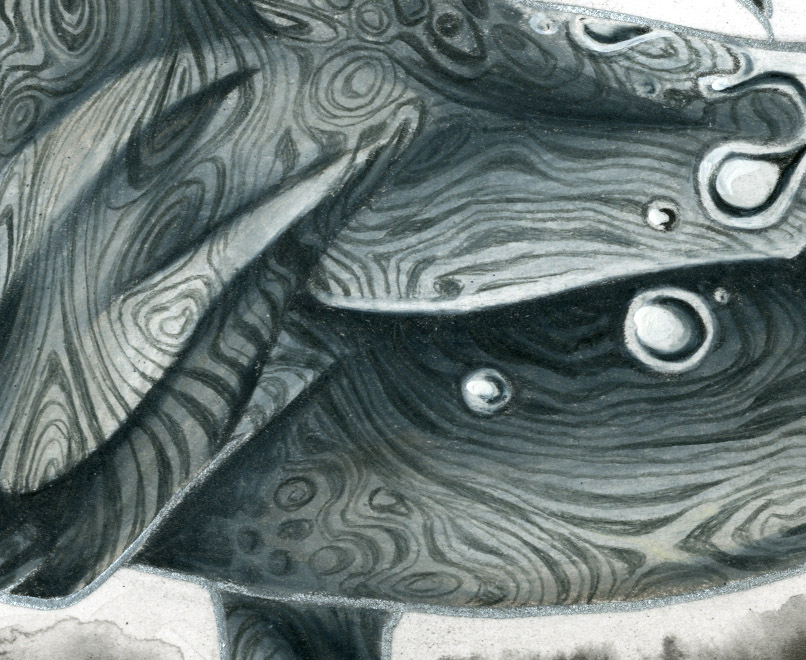 Elemental Horse: Ferro (metal) Personal Work • Print available!
Ferro (technically steel, but here used to represent all metal), is mostly damascus steel with a healthy dollop of mercury, bronze hooves, and golden eyes. I chose damascus steel because I felt the swooshy, almost organic patterns contrasted nicely with its form as the strong, sharp blades it is usually used for. The mercury represents the fluid, flexible nature of metal, and I've draped it over Ferro in a manner reminiscent of an Appaloosa's blanket. For the horse I drew inspiration from the trotting breeds, notably the Standardbred. Horses are often depicted at the canter or gallop, as those gaits tend to lend themselves well to beautiful, dramatic poses, but for this final installment in my elemental series I wanted to highlight the grace and power of that often over-looked gait: the trot.
Mixed media: black ink and watercolor, colored pencil, and silver paint pen. Ferro's sigil is, like those for fire, air, water, earth and wood, of my own devising. In this case, however, I have incorporated elements of the Chinese character for metal in the Wu Xing, 金 (jīn). Original sold at Further Confusion.
I do have a couple more pieces planned along these lines, which I hope to have finished in the first half of 2015. This will bring my total of horses in this particular style up to twelve, which I hope to make into a calendar for next year. Stay tuned!
*
Goldeen Ogawa is a writer, illustrator and cartoonist. To keep tabs on what she is doing you can follow her on twitter @GrimbyTweets, and on Tumblr. You can also contact her directly.